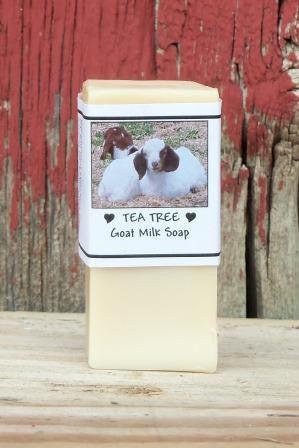 Pure tea tree. Tea tree oil was carried by the Australian soldiers in World War II as a disinfectant and germicide. It's also been used to treat acne, bug bites and fungal infections, repel bugs, kills germs and will probably save the world when everything becomes antibiotic resistant.
It's camphor smelling.
The raw milk is sourced from our pastured-raised goats.
Ingredients: Raw goat milk, palm oil, olive oil, coconut oil, sodium hydroxide (lye), rice bran oil, shea butter, castor oil, grapeseed oil, sunflower oil, tea tree essential oil
Net wt: 4 oz / 113 g (Shh: most bars weigh more than this!)