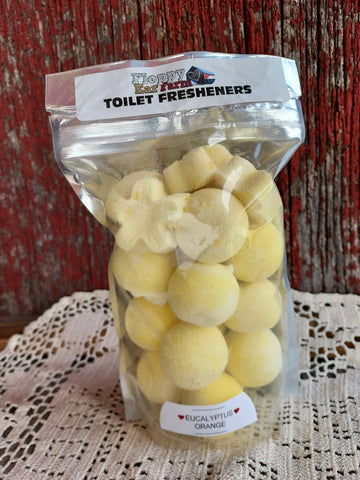 We originally formulated this product for a customer with health issues who wanted to discreetly carry a non-leaking bathroom freshener when she went visiting.
Packed with essential oils, one toilet fizzy will scent up your whole bathroom (and often times the hallway too). Drop 1 toilet tab into the bowl after flushing. The ingredients also make easier to clean the toilet should you choose to tackle that project as well.
They also work great to freshen the basement. Drop 1 tab into your sump pump hole.
Ingredients: sodium bicarbonate (baking soda), citric acid, witch hazel, essential oils
Net wt. 12 oz
 **For some blends we are now adding a mix of essential and fragrance oils. For instance, Apple & Spearmint and Orange Jasmine. 
Our thieves blend includes the essential oils of rosemary, clove bud, cinnamon leaf, orange, and eucalyptus. 
***Due to increased container costs and their continued lack of availability, we have switched our container from a plastic jar to a resealable pouch. Less plastic and it enables us to keep the price the same for you. Same weight as what was in the jar.